UL Dlc Listed 130lm / W 1000W recharge LED Parking Lot Light
Description du produit
Modèle NO .: AOK-225WiT Température de couleur: 3000k, 4000k, 5000k, 5700k, 6500k Puissance: 265 IP Cote: IP66 Tension d'entrée: 90-305VAC, 347-528VAC, 12 / 24V DC LED Chips Marque: Philips Lumileds Ik Cote: Ik10 Driver: Meanwell Hlg Driver CRI:> 70 (80 en option) HID / HPS Remplacement: 150W-1000W Lampe Luminous Flux (Lm): 32,000-34,450lm Spécification: UL; CUL; DLC; TUV-GS; CE; ROHS; CB Code SH: 94054090 Alimentation: AC Matériau du corps de la lampe: Alliage d'aluminium Application: Square, Highway Certification: CE, EMC, FCC, GS, LVD, RoHS, SAA, UL, Dlc CB Rcm Avec source lumineuse: avec source lumineuse Garantie: 5 ans d'efficacité: Puissance de 130lm / W: Philips Luxeon Chip Matériau de la fibre de rayonnement: Graphite Flake Température de travail (° c): -40-50 Marque: AOK Origine: Shenzhen, Chine UL DLC Listed 130lm / W 1000W Replacement LED Parking Lot Light
1. Plage de puissance: 75W à 265W
2. Longue durée de vie, TM21 L70> 54,000 heures
3. Philips LumiLED, 130lm / w
4. Driver Meanwell HLG, IP66
5. Garantie: 5 ans, en cas d'échec, des remplacements gratuits seront envoyés immédiatement
6. Temps de production court: 5-7 jours ouvrables au sein de 100pcs
7. La couverture de PC Mitsubishi ne s'allume pas à mesure que le temps passe
Led Parking Lot Lighting

Description
1. LED Parking Lot Lighting Using world's top level core components: Philips Lumileds Luxeon LED chip & MeanWell Driver;

2. World's top level certificate of LED Parking Lot Lighting : UL, cUL and DLC for North America, TUV-GS for Europe, SAA and RCM for Australia and CE, RoHS, CB, etc;

3. Superb performance, LED Parking Lot Lighting  system efficacy >130lm/w;

4. Elegant shape, LED Parking Lot Lighting color can be customized in your required. Bronze color avaliable.

5. LED Parking Lot Lighting have Anti-corrosion and anti-oxidation function ensured by anodized aluminum finish & anti-static coating;

6.Extraordinary convection heat dissipation design based on hot cellular effects concept. The average temperature rising of the entire luminaire is only 26ºC, capable of working under environment of
 -40ºC to 50ºC;

7. The main body of LED Parking Lot Lighting  is made of aircraft level 6063 aluminum, with IK10 impact protection and IP66 dust and water protection. Fully capable for outdoor use;

8. The LED Parking Lot Lighting has built-in 4KV surge protection mechanism, with 10KV or 20KV extra surge protection device optional;   

9. LED Parking Lot Lighting Multiple operating voltages available: standard 90-305VAC, and 347VAC, 480VAC, 12/24VDC optional; 

10. LED Parking Lot Lighting Multiple dimming options: 1-10V, PWM, resistance, DALI dimming, extra photocell sensor available;  

11. Providing complete solar lighting system, DALI system and Zigbee system solutions for all AOK products, one-stop service;

12. LED Parking Lot Lighting  Multi-ple brackets, and AOK providing adaptors in different size of diameters to fit with different kind of poles, such as 40mm, 50mm, 60mm, 80mm, round pole to square pole adaptor, etc;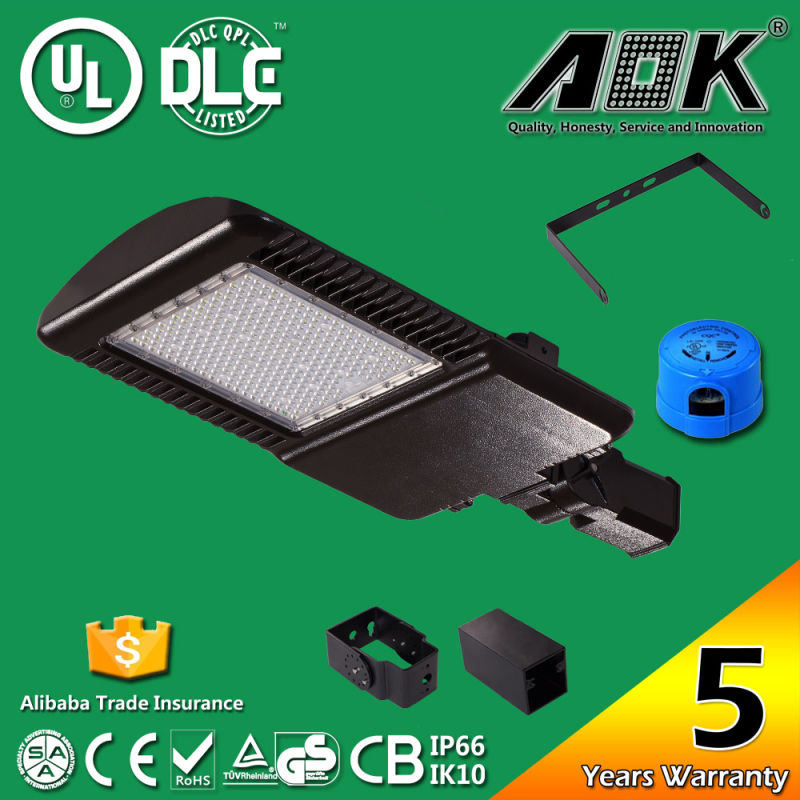 1.

UL Certificate No.:
E364473
2. TUV 

GS-Mark Approval, Certificate No. S 50301508
3. 

CB TEST CERTIFICATE, Ref. Certif. No.: DE 2-018509
4. 

SAA Certificate No.: SAA150326
5. 

RCM Certificate No.: SAA-150326-EA By SAA Approvals Pty Ltd
6. For DLC, please check in website: www.designlights.org/QPL#results,search by keyword "AOK" for more details for all the models.
Nom de l'entreprise: AOK LED Light Company Limited
Ajouter: 1 bâtiment, St George's Technology and Industrial Park, rue Shajing, ville de Shenzhen, Chine.
Personne à contacter: Joney Jiang
Les autres détails de l'éclairage de stationnement LED AOK LED
| | | | | | | |
| --- | --- | --- | --- | --- | --- | --- |
| Item No. | Power (W) | HPS/HID/MHL Replacemnet | Luminous Effecacy | Luminous Flux | Beam Angle | Dimension |
| AOK-75WiT | | | | | | |
| AOK-110WiL |    110   | | | | | |
| AOK-150WiL | | | | | | |
| AOK-180WiL | | | | | | |
| AOK-225WiL | | | | | | |
| AOK-265WiL | | | | | | |
LED Parking Lot Lighting 

 Main Parameters 

LED Chip

Philips Chip

Lumen Tolerance

+/- 5%

Driver

Meanwell Driver

Storage Temperatures

-40°C~50°C

Operating Voltage

100-240/277VAC or

277-480V AC

or 12-24VDC

Working Environment

Between-40ºC to +50ºC, 10%~90%RH

Power Efficiency

90%

Total Harmonic Distortion

< 10%

Power Factor

0.95

LED Life Span

L70  54,000 hours

Lamp Rated Luminous Efficiency

130lm/w

Wind Index

Force 12

Color Rendering Index

Ra>80

Body and Shell Materials

Aluminum alloy

Color Temperature

3000K,  4000K, 5000K ,  5700K, 6500K

IP Rating

IP66

Certifications

CUL,UL,DLC,TUV,SAA,CE,RoHS, CB

Warranty

5 years

Options

Dimming/Timer/Zigbee/DALI/Photocell/Motion Sensor/10KV SPD
Groupes de Produits : Éclairage de parking LED